"You cant be messing around in faith and excuses not to learn advanced knowledge by thinking everything 'gon be alright." -Bobby Hemmit
What is The SDA?
TSD Academy is the only yearly Online Intensive Course that is designed to teach you what you need to know to guide you on your spiritual journey so that you can go out and teach, heal, and empower others to ultimately do your soul's mission.
The Academy provides:
-A weekly live class that is understandable and relevant to today's topics in spirituality.
-Weekly practical assignments to enhance weekly lesson learned.
-A private community of like minded individuals.
-Expert Guests in various spiritual practices to teach what they know.
-Bi-monthly packages mailed with various tools to be used during class lessons (crystals, books, herbs, etc.)
The Course Is Taught In 4 Semesters
Semester 1
Mastering Your Inner Work
Semester 2
Mastering Inner Transitioning to Outer Work
Semester 3
Mastering The Outer Work
Semester 4
Mastering Your Mission Work/Soul's Purpose
Example Weekly Topics:
-
Meditation Is Life:
 How to Truly Meditate to connect to you!
-
Natal Chart as Spiritual Cheat Codes:
 (How to read your own Natal chart)
-
Real Numerology
: How To read your own numerological chart.
-
Synchronicites Everywhere 
How to easily read the messages in number synchronicities
-True Shadow Work: 
How to connect to your inner child to do true shadow work.
-Relationships: 
How to deal with all relationships while on the spiritual path
-The Chakra System:
What is it and how to master it on your spiritual
-Understanding Crystals:
How to use them as an important tool on your spiritual path
Unique Benefits
You will have the ability to become an expert in multiple fields and to connect in meaningful ways with current experts in the field.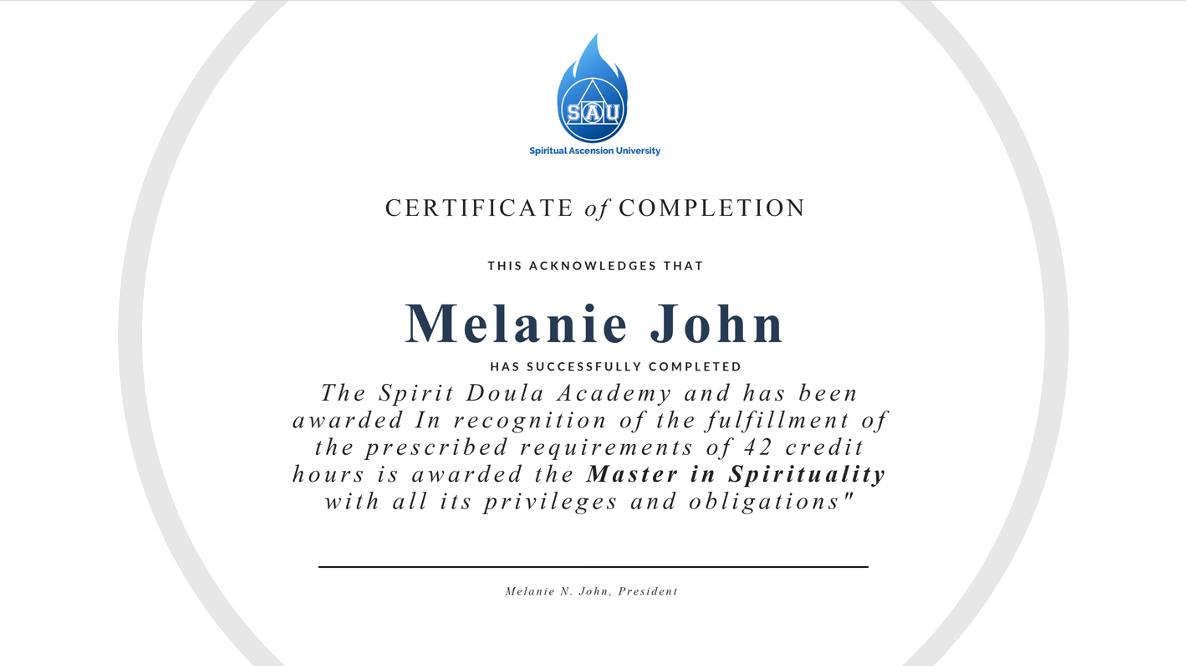 Certified Courses
Certified Courses: Many of the weekly courses are taught by experts in the field and thereby certified, so that by the time the year is over you will have earned various certificates.
Sample Class Lesson
The Classes are run like real online college with easy to follow presentations.
What Some Students Are Saying...
This course has changed my life forever. Not only is the Spirit Doula knowledgeable about the science of metaphysics and spiritual practices, she can break it down into the most simplistic terms and ideas that you can "easily" incorporate into your daily practices. She truly cares about the family and her passion shines through her teaching style, Melanie will give you the truth of what you need straight up no chaser, coming from a place of love. ---Lauren, T.
Melanie aka Mel is the new "Spiritual Buddha". I love the Spiritual Doula Academy and all of the spiritual lessons I have learned this far.....Coming into awareness of "self" can be scary, confusing, and fearful so finding the right mentor who is authentic, extremely honest, knowledgeable, and truly spiritually connected is a real blessing. Taken this course has helped me understand the "unexplainable" and has provided me with the tools to help myself do the most important thing, "connect to myself" ---Connita E.
Melanie is truly an Oracle, a great teacher and and an awesome person. I jumped at the opportunity of being her student and I'm glad I did. In regards to what I am learning in this class I will be able to help humanity and earn a living at the same time one day. I am learning about Meditation, Astrology, Numerology, understanding number synchronicities and becoming the objects that we use for manifestations pr other objectives that we have. ---Bianca J.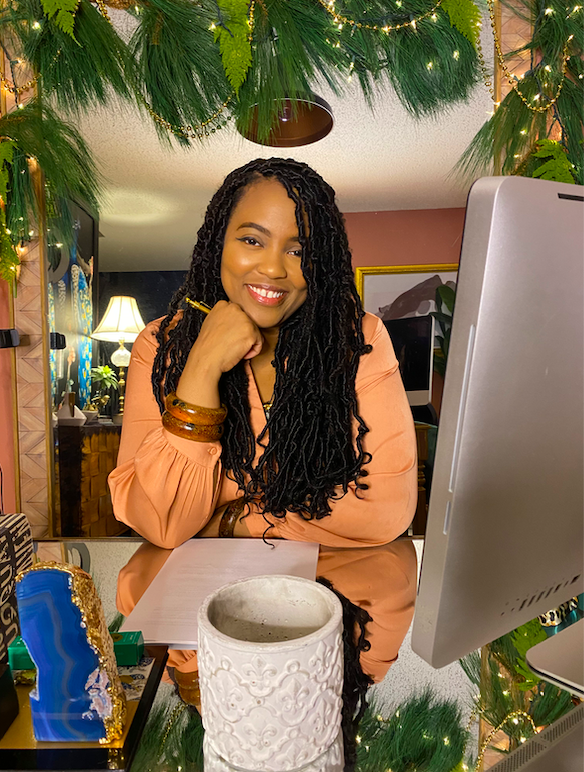 Your Instructor:
Professor Melanie, B.S., M.Ed, TSD
You may have heard Melanie on Blog Talk Radio Shows and may have seen her on her YouTube channel (The Spirit Doula) as well as other popular YouTube channels that promote and share her videos. To many she is known as The Spirit Doula and to her students, Professor Melanie.
She is also the Founder of Zoe Essentials, a top online apothecary, where she, along with her team on young healers sells herbs, crystals, copper and other various physical and spiritual healing products.
She has worked for years as a college professor and is now using her unique teaching methods and experience to teach subjects in which she is passionate about…subjects that she has been teaching her friends and family for decades…spirituality.
She has two Bachelor's degrees in Africana Studies & Spanish from Rutgers University and a Master's Degree in Education in the field of Linguistics. Furthermore she has doctoral credits in Linguistics.
She has a passion for math and has studied biology and quantum physics in relation to the African/Indigenous American Diaspora. She studied at La Universidad De Guadalajara in Mexico and did research under the tutelage of Dr. Ivan Van Sertima and Dr. Kim D. Butler. She is an avid reader and researcher of ancient texts and writings and speaks several languages. She has travelled the world doing research and learning about different cultures and traditions, such as Mexico, Colombia, France, Spain, Bahrain, Morocco, and Antigua to name a few.  
She is currently a teacher, healer, and guide to many on their spiritual journey. She uses her spiritual gifts to guide and support as well as her practical way of teaching to disseminate knowledge and understanding.
FAQ's
When do classes begin?
Wednesday, March 9, 2022
What happens if I miss a weekly session?
No worries! All sessions pre-recorded. You will have access to all recorded sessions on your membership page.
Do I need to buy any books?
A membership package will be mailed to you bi-monthly, these packages will contain some materials that you will need for the month (notebooks, writing utensils, crystals, spiritual baths, herbs, books, room cleansing items, orgonite, etc.).
Refund Policy
Once you register, apply, and accepted into the program, no refunds will be given. This is because once you register, a significant amount of resources will be invested into you as a student.
How do I register?
Just click the "Enroll Now" Button below!
More Student Testimonials...
I knew that this year was going to be different, life changing and soul awakening. For that reason I knew that I wanted to study with SDA. I had only been following Melanie for about one or two months. Her way of teaching on YouTube was so refreshing and humbling to my spirit that I jumped right in. I spoke that no matter what the provisions that are needed for this course is already taken care of, it is worth the investment. ---Chef Tirzah
What an amazing teacher. Melanie truly guides you on your spiritual journey. As we all know this spiritual journey is terrifying and super lonley. But here at Spirit Doula Academy, she has really created a community where you can learn and unlock all aspects if your higher self in your spiritual growth. A true warrior, Melanie helps you understand who you truly are and the tools you need to embark on your soul's mission. ---Tiara W.
For a long time I had been yearning for formal instruction and training on topics like numerology, astrology, and other metaphysical things. This course was the answer to my call. Not only do I receive class-like teaching from the comfort of my home, but I also get personal guidance unique to me through 1 on 1 consultations and in class discussion. Not to mention, being in this course introduced me to a network of other like-minded individuals who can connect on a level not so easily achieved out "there." Live teachings allow for a personable learning experience and clarification that I couldn't get with my own self learning and self teachings. I am beyond satisfied with the content of this course, and more notably the dedication and excitement of the instructor! ---Nelson A.